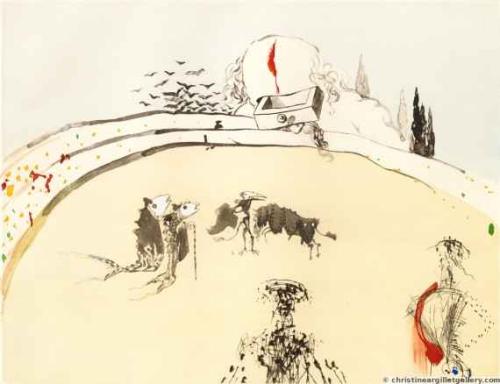 Surrealistic Bullfight - Bullfight with Drawer

Original Colored Etching

20.0 " x 26.0 "
Inspired from Picasso's "Tauromachie", these etchings epitomize Dali's style with their burlesque touches. Bishops are seen blessing macabre parades, where the bull ends up in a grand piano, while a hallucinogenic matador, like a sad, clown, gazes at the audience. Parrots and fish turn into toreadors, while a burning giraffe, a lion or a statue stand in the arena. Lastly, a huge monster coming out of a television set devours the whole scene. A catalan theme revisited by Picasso, then "dalinized", the "Surrealist Bullfight" is seen as a ghoulish, delirious farce.

One of a suite of 7 original etchings reworked in drypoint and hand-colored. Published in 1966-1967.