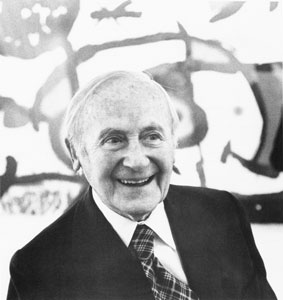 Joan Miro was born in Barcelona, Spain as the son of a goldsmith and jewelry maker. He studied art at the Academia Gali and at the Barcelona School of Fine Arts where he was admitted at 14, but his parents dissuaded him to pursue his desire to become an artist and he initially worked as an accountant. Eventually convincing his parents of his determination, Miro made his first trip to Paris in 1920, and settled there in 1921. He met Picasso and other important emerging artists in Paris, which at the time was the cultural center for art in the early part of the 20th century. In 1924, Miro aligned himself with the Surrealist movement through the movement's founder and proponent, Andre Breton. He associated with the artists Max Ernst, Andre Masson and others, but always remained on the periphery of Surrealism.
By 1930, Miro had developed his own unique style of imagery derived from elements of Catalan folk art, the art of children, and randomness. Eventually, Breton described him as, "the most surreal of us all." His fame and recognition became international during the 1930's and from 1940 to 1948, Miro returned to his homeland, beginning to experiment with many media, including, lithography, etching, ceramics, sculpture and the creation of murals. He visited the United States in 1947 for the first time and was the subject for many important museum exhibitions including two at the Museum of Modern Art in New York in 1951 and 1959. In 1956 Miro settled in Majorca, Spain in a studio that eventually was transformed into the Miro Museum.
Miro's personality was surprising as well. He was a remarkably modest man, and wore dark business suits. He was orderly, detail oriented, meticulous and reliable, in contrast to his art, there was nothing of the "bohemian artist" present in him at all. He became one of the most prolific creators of original lithographs and etchings, and innovated the techniques of etching through the use of highly-textured applications of color, a technique that would later be called carborundum aquatint. Today, Miro is viewed by the art world and collectors, as one of the most important artists of the 20th century and the precursor for much of modern art.