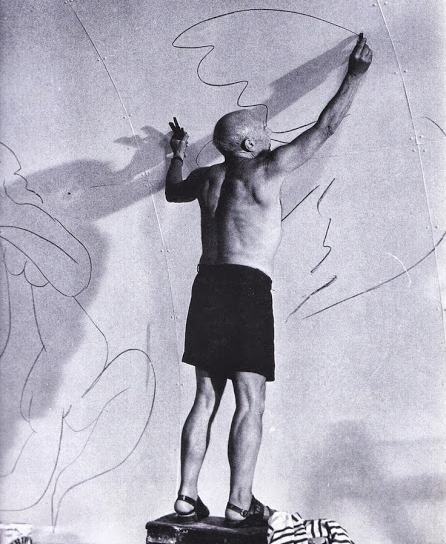 Pablo Ruiz Picasso (1881–1973)

When I was a child, my mother said to me, 'If you become a soldier, you will become a general. If you become a monk, then you will end up as Pope.' Instead, I became a painter, and wound up as Picasso."
— Pablo Picasso (1881-1973)

Pablo Picasso is unquestionably the most famous artist of the 20th Century. In his artistic life, lasting more than 75 years he created tens of thousands of works, including paintings, drawings, sculpture, original lithographs, etchings, linoleum cuts and ceramics. No single artist has had a greater influence on Modern Art and has changed art more profoundly in the 20th Century. Picasso has been described as having lived several lifetimes artistically. He created Cubism (with George Braque) and continued thereafter to develop his art with a velocity that is comparable to the pace and dramatic change of the 20th Century.

Born in Malaga on October 25, 1881, Picasso received his first drawing lessons from his father, a drawing teacher, at La Coruna in 1891. In 1895 the family moved to Barcelona, where young Pablo brilliantly passed the entry examination to the famous La Llonga art school completing in a single day, the one-month qualifying exam. His father was so overwhelmed by his son's abilities that he gave him own brushes, and proclaimed that he would never paint again.
In 1897 he exhibited drawings in a cafe called Els Quatre Gats the artistic center of Barcelona. In 1899 he met Jaime Sabartes and did his first etching El Zurdo. The following year saw Picasso in Paris for the first time, where he created and exhibited drawings. In 1901 he made drawings in Madrid and Paris and he started to sign his works 'Picasso,' his mother's maiden name. In 1904 he settled definitively in Paris, where he rented a studio in the "Bateau Lavoir." This is the period when he created his famous "Blue Period" works, so called because of their monochromatic tonality, and somber content.

In 1907, Picasso created the painting that would in essence create "modern art." "Les Demoiselles d'Avignon" is considered the watershed painting of modern art. Artists from all over the world made pilgrimages to see the work themselves. It led to Picasso's collaboration with Braque (lasting into the 1920's), which created Cubism.

The 1920's were important years in the development of Picasso's art and his fame. He designed theater sets and painted in cubist, neo-classical, and surreal modes. In 1937, the fascists horrified the world with the bombing of the civilian town of Guernica, Spain. Picasso was deeply affected by the carnage and responded by creating his other most notable masterpiece mural, "Guernica."

Picasso became one of the most important original printmakers of all time. He was never content to use any media in its purely traditional way, and he revolutionized many of the graphic media he employed. In 1905 he engraved Les Saltimbanques. In 1906 Picasso did drypoints on celluloid and his first woodcuts. From 1909 to 1915 he produced Cubist prints, and from 1916 to 1920 he did neoclassic etchings. 1919 was the year of his first lithographs; in 1927 he did etchings for Balzac's Le Chef-d'oeuvre inconnu and etchings for Ovid's Metamorphoses in 1930. In 1933 he started work on a set of one hundred copperplates for Vollard (the Vollard Series). In 1934 he did Lysistrata and in 1935 the Minotauromachy. In 1937 engraved Franco's Dream and Lie (also in response to Guernica), the sugar aquatints for Buffon's Histoire Naturelle, and the portraits of Vollard that concluded the famous hundred plate series.

Picasso moved to lithography in November 1945, producing his first color works in that medium at the famous Mourlot atelier. In 1948 he did Gongora and Reverdy's Le Chant des Morts. In 1949 Picasso created the lithograph entitled The Dove of Peace; in 1950 the illustrations for Cesaire's Corps Perdui; in 1952 the aquatints, Woman at the Window. From 1953 to 1957 came his aquatints, line engravings and lithographs, in particular the 180 Drawings Suite published by Verve, Carnet de la Californie suite, and (the Jacqueline series) In 1958 his first color linocuts. In 1959 he did the Tauromachy series and linocuts. From 1960 to 1967, he did aquatints, etchings, drypoints and line engravings. In 1968, from March 16 to October 5, three weeks before his 87th birthday, he did three hundred and forty-seven etchings, line engravings, drypoints, mezzotints and aquatints, known as the "347 Series."
Picasso died on April 8, 1973 in Mougins, France at the age of 91.

It is impossible to fully grasp Picasso's genius as an artist. Art historians, critics, curators and experts have spent substantial portions of their professional careers attempting to do so. It is equally difficult to quantify the experience of owning a work of art by the artist whom many believe was the greatest of all time. To own such a work and enjoy it everyday, share this enrichment in your own environment with others, and perhaps pass it on to future generations is beyond measure. Few things in life can offer this kind of enduring pleasure.