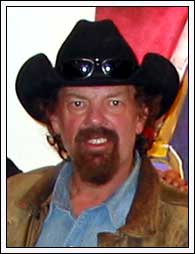 Taos resident, Malcolm Furlow, an award winning painter, hasn't always been an artist. As a young man he received a track scholarship to the University of Texas and decided to choose art as his major. Unfortunately, his art professor disapproved of his style of painting and a disappointed Furlow left college to become a rock and roll musician. For 18 years he played the sax, bass and sometimes the guitar, playing back up for such notable groups and soloists as the Beach Boys and Lou Rawls.



Leaving his music career behind, Furlow used his artistic talent to construct models for movie sets at Walt Disney Studios. He also delved into photography, writing a book for Kodak, called Close-Up Photography, that explained the best way to photograph miniatures, especially models. But, in 1987 after hearing scholar Joseph Campbell's words "Follow Your Bliss," Furlow decided to go back to his first love, painting.



Furlow began drawing American Indians at the age of six, when his father had Malcolm accompany him on business trips throughout New Mexico. Beginning with watercolors, Furlow realized the medium was ill suited for large canvases and switched to brightly colored acrylic images of Native Americans.



About his subject matter and painting style, Furlow has said, "I knew I wanted to say it with color because that's the emotion of it. I've got to make the viewer feel what I feel . All I'm trying to do is paint them as they are - paint their culture, their dignity and their stature . I didn't want to do portraits of Indians, I wanted to say something about the human condition." He paints two worlds: the Native American and their place in the Anglo World. In addition, Furlow rides and decorates motorcycles.